San Luis
,
Tenerife
,
Canary Islands
,
Spain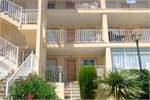 Request info on similar properties »»
A very nice apartment situated in a lovely gated community with views over the country park and lake. The accomadation consists of 2 bedrooms, 1 bathroom, lounge/diner and kitchen + terraces. There is a communal pool and it is ideally located close to local amenities etc, overall a good buy.
Towns located close to San Luis, Spain
Get info on similar properties
€89,950

Approx.

£74,146

GBP

|

US$124,626

USD

Currency exchange services supplied by
Ref #
1413832
Listed
over 1 year ago
Location
San Luis, Tenerife
Type
Apartment
Beds
2
Bathrooms
1
Built Size
---
Plot Size
---
Purchase this Apartment/Flat in San Luis for
€176
p/m
(70% LTV, 3.4% Interest Rate, 30 years)
(Subject to status. Information given for guidance purposes only.)
---
Mortgage Broker?
Sponsor our mortgage quotations for Spain.