My Propertyshowrooms.com Wish List
Sometimes I like to indulge myself in a little daydreaming. For many years I've worked in the investment market, telling others how to best invest their wealth or managing portfolios for some of the richest people in the world.
Now, while there's no denying that it gives you a kick to spend someone else's money, it ain't so great if you happen to lose some of it! That's the nature of the game however - win some, lose some - life's a gamble.
Which is why if it were MY money, my risk appetite would be extremely low. It would be property for me every time. I would probably love to invest in classic cars more but alas, you can't live in them?you can't even drive them if you want the best ROI! So, realistically that leaves me with good old-fashioned bricks and mortar (construction materials subject to regional variance).
In this daydream, I have awarded myself up to €250,000 to spend on a property in a country of my choosing. I am buying purely for investment purposes and so will (endeavour to) remain emotionally disconnected from the purchase and concern myself only with how the numbers stack up.
I've been browsing Propertyshowrooms.com and chosen the following properties as possible purchases with my imaginary money. I ask you to indulge me in my little daydream by taking a look at my list which is not compiled in order of preference because I can simply extend my phantom budget at any time and buy the lot if I want :)
Click on the images to go through to the listing.
France
Reason behind investment

Don't you just love France, daaaahling? It's just sooo……. je ne sais quoi! Seriously, this is one of the places I would love to buy property. Specifically central Paris but I've looked, and only broom cupboards are available with my budget!
On a sensible level, France is also the most popular tourist destination in the world, hosting more than 85 million visitors each year. When you buy property in France you can't really go wrong because visitors pour into the country attracted by its diverse cultural and geographical landscape for a multitude of reasons.
You can go ski-ing in France or equally, languish on a beach somewhere in the south, visit the world-famous wine regions, play a round of golf at a world-class course, attend culinary courses, enjoy some of the best museums and art collections imaginable, shop 'til you drop or just potter around local 'bracantes' or flea markets as we call them.
In terms of the property itself, I was specifically looking for what I would call 'rustic splendour'. The French have a way of injecting character into their buildings with gorgeous architectural features, no matter how humble the property. I think it's important when investing in property, particularly for tourist use, that it 'fit' within its landscape. Personally, I like 'quirky' but that's not always the best investment decision.
Property Choices

Ref 1910349 | Chef-boutonne, Poitou-charentes | 5 Bedroom House/villa

This imposing five-bedroom property is in a very small town located in the central western part of France in the Poitu Charentes region, relatively undiscovered by tourists (meaning there are bargains to be had).
Just 80km from Poitiers, 100km from the coastal resort of La Rochelle, Chef Boutonne is an ideal starting-point to discover the regions many hidden treasures. Steeped in local tradition, the landscape is littered with castles, either in ruins or returned to glory by restoration. All-in-all, this is a marvellous location for family holidays or for a retreat when the kids have flown the nest.
With a relatively mild climate and the property's proximity to many cultural and natural attractions, there is good year-round potential for rental income. A property of this size would sleep up to 10 people and achieve an approximate rental of between €450 and €500 per week, depending on the time of year.
The property itself is Victorian and bulging with period features such as wooden floors, a marble corner fireplace with wood-burning stove in the sitting room, wall panelling, exposed brickwork, cornicing and ceiling roses throughout. Majestic!

Ref 1872790 | Beziers, Languedoc-roussillon | House with a Terrace

Now, I think the charm of this property is very evident. Just one look at that lovely stone cottage and you get a sense of it being like a tardis inside, really spacious but with nooks and crannies everywhere and rooms stacked higgledy-piggledy, sans the more angular form of contemporary homes. What's more, it has a potentially very pretty courtyard!
The property has been well renovated within recent years, rendering it in pretty good shape with perhaps just a few cosmetic adjustments to make. In my opinion, it's important from an investment opportunity to know your risk requirements ahead of even considering a purchase. Although I would personally prefer a 'project', that's something that will consume my budget and delay rental earnings and so is not suitable for my profile.
The property comes furnished which is also excellent and is set within an idyllic hamlet in the Languedoc-roussillon region, renowned for having three times the combined area of vineyards than Bordeaux.
Beziers in Languedoc is at the southernmost point of France, overlooking the River Orb. The Mediterranean is about 10km away, with access to a large number of stunning beaches that attract hosts of families and travellers looking for beach holidays. In terms of rental potential, this is definitely a property that would suit families or those hoping for a taste of traditional French living and would probably fetch a rental income of between €350 and €700 per week for 6 people.
Dubai
Reason behind investment


I've never been to Dubai but I don't think you have to before you can fully appreciate the growth potential of this mighty Emirate. With one of the most recognisable skylines in the world, Dubai is associated with luxurious real estate and mega-structures that make your toes curl.
Naturally, you think of the Middle East and you think of oil and there's been a lot of downward movement in that department in recent months. But the beauty of Dubai is that it doesn't rely on its oil sector for economic strength as much as in past years, due to the rapid expansion in its hospitality market - the engine currently accelerating growth in the Emirate's property market.
As hosts to the 2020 World Expo, Dubai's authorities are gearing up for a big increase in tourism, pouring large sums of investment capital into infrastructure and creating a bunch of exciting opportunities for the savvy property investor.
In Dubai, I am looking for cutting edge design. I'm not fussed at the property size because it's more about the building it's in. Absolutely zero chance of a family home in my imaginary price range, particularly because of lack of supply but a 1-bedroom chalet, condominium or even a hotel suite is affordable and the rental yields potentially very attractive due to year-round demand, particularly from business travellers.
Property Choices

Ref 1633358 | Star Cove Rotana Resort, Ras Al Khaymah | 1 Bedroom Home

Not only does this property look absolutely gorgeous, it is set within a 5-star resort and has the following mouth-watering features:
Quiet, landscaped area with good privacy
Freehold ownership
4 unlimited Cove Rotana Memberships for use of Gym, Spa, Beach, Pools, Kids Club…
Room Service on call
Good Rental Options
Ideal Holiday Home
Chalets at the Cove Rotana Resort are of a contemporary Arabic design and located in a prime waterfront position in Ras al Khaimah offering 2 restaurants, 4 bars and 600 metres of secluded, private beach. (Sounds so good I'm almost packing my bags here!!)
My idea of holidaying in Dubai is one of not doing very much to be honest! Unlike France, I doubt I would be tempted to stray beyond this Dubai complex, beyond going on a shopping spree or to gaze at the Emirate's amazing skyline. Possibly the most taxing thing I would consider is a short stroll from the chalet to the pool or beachside, resuming my relaxation in a different setting.
The property itself is on two levels and has a galleried lounge with attractive feature windows, giving the chalet a great feeling of space. Set in a street within the landscaped resort, there's a real sense of exclusivity which holds enormous appeal for both business and leisure tourists.
In terms of rental income, a property like this could fetch up to €1100 a WEEK, depending more upon availability than season and with Dubai's commitment to investing in its tourist sector ahead of the 2020 Expo, there is going to be rising demand for precisely this kind of property.

Ref 1540715 | Dubai | Property with a Swimming Pool

Now, this studio apartment is located to make the most of Dubai's growing domestic demand for private rentals. The development is called 'Executive Bay' and as implied by its name, is situated on a prime waterfront location in the Burj area, with incredible views of the region's new business hub.
Like the previous property, this is an income-generating asset and as such, there are some excellent facilities available with this property including, a sauna, spa, swimming pool and state-of-the-art gymnasium.
These are precisely the features to look for in property assets specifically designed to generate income from rental together with capital appreciation. You have to look for growth potential in both intrinsic value and the relevant rental market and this property has excellent prospects on both levels.
One of the best aspects of this studio apartment as an investment property is the consistent rental income potential of around €800 each week for short term bookings. Appealing most probably to a young professional working in the area, a long term rental figure for a studio apartment is realistically around €2000 per month, possibly more.
Italy
Reason behind investment

Unfortunately, it's probably my appetite for Italian food that makes me include Italy in my list and it was interesting to note that among properties listed on Propertyshowrooms.com, you can tell that the heart of an Italian home is most definitely the kitchen!
Having lived in Sicily for a while in my youth, I decided to centre my search for a fantasy property there. Sicily is like everything great and not-so-great about Italy magnified by at least 100 times. Italian mothers are cluckier, the old men are more sinister, the hand gestures more exaggerated and most importantly - life is centred on food! (Slightly irritating is the fact that the Italian metabolism rages right through to their late 30s whereas everything I ate there stuck to my hips in a nano-second!)
In terms of the investment (focus Roxanne!!), Italy's economy is now showing some green shoots of recovery after being through the mill and back several times over since the financial crisis. Foreign investment is increasing rapidly in Italy too which is always great news when you're thinking about investing in residential property. Look to where the big developers are constructing office spaces, retail parks, hotels or factories and you'll locate an area with growth potential.
Foreign investment is usually large-scale and almost always in cash which not only speeds projects up but underpins their security with a large equity stake. Commercial development then filters into local employment markets, creating jobs and improving prosperity and then naturally, demand for suitable accommodation follows.
Sicily is a great holiday destination because it has so much to offer. Ancient ruins of amphitheatres and temples reflect the rich historical tapestry of civilisations claiming dominance over this sublimely charming island.
Of course, it's not possible to mention Sicily without referencing Cosa Nostra - The Sicilian Mafia. Indeed, I may ruffle feathers if I don't and I'm very fond of my fingers! Although, they indeed do exist, it's not something that you feel is a threatening influence on your stay there… not at all in fact.
Italy generally is a wonderfully receptive country to foreigners, particularly families. There's a natural respect that exists between families in Italy that is almost like an unspoken code which is largely where the Mafia movement emanates from.
Apart from food, family is very much the most important concern for Italians and they certainly know how to make you feel right at home, making this a fabulous destination for those with children.

Ref 1794181 | Agnone, Sicily | 12 Bed Villa with a Terrace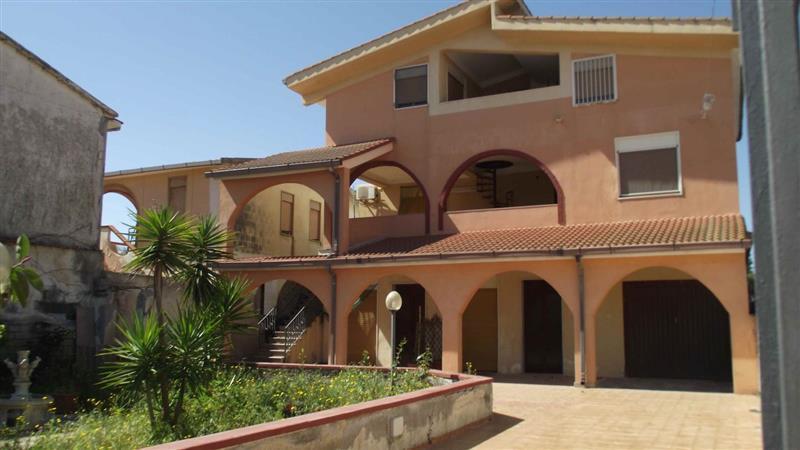 One of the best things about the Sicilian property market is that you get a whole lot of bang for your buck! Sicily remains one of Italy's best kept secrets in the real estate department. The island's geographic location has rendered it vulnerable to many influences over the centuries, all of which is reflected in its glorious architecture.
Control of Sicily has passed through the Romans, Byzantines, Moors and Spanish amongst others, each creating a melting pot of cultural influences that has given Sicily it's very distinct personality.
This property is set in the coastal area of Agnone Bagni, located on the east coast of Sicily, across the bay from Catania, (where there is an international airport) and Mount Etna (don't worry, Europe's most active volcano is distant enough from this property! ).
I like this one because it's large. There are basically three separate units across three floors. Of modern construction, there looks to be a reasonable amount of cosmetic work to be done which is fine because this is an investment and so cheaper cosmetic improvements will ultimately add value without draining my imaginary bank account as structural work would.
This property sleeps 12 and is literally a few minutes stroll from a pretty marvellous beach. The climate is mild in the winter and 'scorchio' in the summer and Sicily is an extremely popular holiday destination for many mainland Italians, making this a good buy for rental potential.
The house is arranged in 3 units: five-bedrooms on the ground floor, four on the first and three on the second. Achievable rentals for the apartment for peak-season (July and August) are: up to €900 p/wk for the 5-bed; €800 p/wk the 4-bed and around €700 for the top floor's 3-bed unit. With figures like that for a property this size, even two months of rental income at these levels represents a great ROI.

Ref 1844376 | Ragusa, Sicily | 3 Bedroom Property with a Terrace

This is a completely delicious-looking property. Perhaps it's because its restoration was undertaken and designed by the owner, a well-known local architect. This property has so much character due to the restoration's sympathetic attention to detail, with exposed stonework revealing the building's original arches and walls; wood beams and parquet flooring.
However, this home has a distinctly contemporary feel with its stylish kitchen and galleried landing. Underfloor heating, air-conditioning, an alarm system with CCTV allow for modern living within an original Baroque setting. Simply stunning.
From the terrace you get an incredible panoramic view of historic Ragusa with its breath-taking architecture, set amidst wild countryside and rolling hills. Ragusa is the smallest of the Sicilian provinces and definitely one of the most beautiful. The region is littered with exceptional examples of Baroque palaces and churches, with 18 being UNESCO World Heritage sites.
This property is ready to move in to. It's been completely restored and so there's no major work to be done, not even a cosmetic face-lift. It comfortably sleeps 6 and although arranged as a 2-bed, there is ample space for a 3rd in the loft space which is currently a studio.
Rentals here are pretty consistent as this is not a purely a beach-holiday location, with a lot going on to cater for other tastes. However, just a 30 minute drive away is Marina di Ragusa, a Blue Flag beach resort, said to be the most fully-serviced beach along the east coast of Sicily.
Rental rates for this property start at €350 p/wk in winter, rising to €1000 p/wk in the peak month of August.
This property would represent a passion purchase for me (if I had the money of course) and so although there's money to be made in its investment, the sheer joy of owning such a wonderful home would have a value all on its own. That's the beauty of tangible investments in property assets. Even if they sit there for years doing nothing, ultimately they will grow in value over the long haul. Win/win.
Spain
Reason behind investment

Apart from living and working in Spain for more than a decade, there's a lot to be said for investing in Spanish property right now. Many believe that we've reached the bottom of the market in terms of price, (something that I personally agree with) and with the Spanish economy recovering at a rate that is surprising economists, there's huge potential for growth in the real estate market.
Spain is the second most popular tourist destination in the world, after France and is a particular favourite with Brits looking to escape the gloomy climate.
I'm going to stick with the devil I know which is the Costa del Sol and ideally, I'm looking for as much value as close to Marbella as I can get. This is where growth in property prices is likely to be the greatest in 2015, with transaction volumes expected to reach pre-crisis levels. It's also the most popular destination on the Costa, made world-famous by its sophisticated, cosmopolitan charms and luxurious lifestyle.
If I can't get close to Marbella, I'll have something close to a golf course. Golf tourism contributes significantly to Spain's GDP and is a high-value market. A rental property close to or set in a world-class golf course within close proximity of the coast is a recipe for investment success in this part of the world.

Ref 1919978 | Benahavis, Andalucia | 2 Bed Apartment

This first property meets my criteria perfectly. Benahavis is a gorgeous and rather exclusive mountain village within a short drive of Puerto Banus and Marbella town. Set close to a golf and country club, you get a real taste of luxury living with this property which is something most tourists expect when they visit this part of the world.
Furthermore, this is a garden apartment overlooking the pool area and golf course beyond, expanding further with panoramic views of the Mediterranean, all of which add to the appeal of the property.
Another thing that is expected by holidaymakers in the Marbella region is a high standard of quality. This lovely garden apartment fits the bill perfectly, with its luxurious finishes and spaciously arranged accommodation.
Because of the property's location near a golf resort, it has year-round rental appeal. Rates would be in the region of €350 p/wk in the low season and €650 in the summer.

Ref 1658339 | Marbella, Andalucia | 2 Bed Townhouse with a Terrace

I love this bijou little property in the heart of Marbella town. It may not have a swimming pool or even access to one as many Spanish urbanisations do but it is in amongst one of the most vibrant and exciting localities in southern Spain.
This property is typically Andalusian in that from the outside, it looks teeny weeny but when you fling open the front door you are greeted with lashings of space. Rather than a terrace, there is a delightful enclosed courtyard garden, another traditional feature in this Spanish townhouse.
The appeal of this property is not only in its potential for holiday lettings. Marbella is a major centre for international business and its economy is thriving, relative to other regions in Spain. Due to increased commercial activity in Marbella over the last few years its local workforce is growing, increasing demand for long-term rentals within the City's limits.
A property like this set in one of Marbella's most attractive residential areas can command a long-term rental of around €1000 p/m. If you wanted just to capitalise on its location close to a major tourist hotspot, rental rates would be from €700 to €1200 p/wk depending upon the time of year.
Conclusion:
Well, actually there isn't a conclusion as I could probably go on for ages with my pretend speculative property investments. In fact, I will have to write another piece featuring some of the others I've missed from this list because there is simply so much going on in the world of international real estate - so many bargains to be had - and my imaginary bank account ever-extendable.
It would be interesting to hear any comments you may have about my selection and perhaps some suggestions of your own.